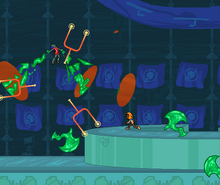 Boss 2: Klow is the sixth Pantagrame video game. The player controls Tilda and fights against Klow.
This time, the player must reach the boss instead of running away.
There is no victory jingle when Klow is defeated.
Ad blocker interference detected!
Wikia is a free-to-use site that makes money from advertising. We have a modified experience for viewers using ad blockers

Wikia is not accessible if you've made further modifications. Remove the custom ad blocker rule(s) and the page will load as expected.