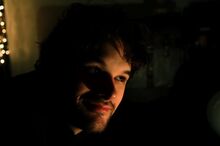 Raphaël "Cauchemar" Lafarge is the main artist and writer of Pantagrame Quest, and the creator of the Tetracosmos setting.
Cauchemar joined forces with Arkelwan and Vincent Mondiot to create another fictional setting, Mirinar. Mirinar is the universe where the novel Teliam Vore (written by Vincent Mondiot and Cauchemar) takes place, as well as numerous illustrations, maps and drafts by Arkelwan.
Cauchemar also wrote and shot three sci-fi short movies, Dedans le monstre, Ordalie and Déchirures.
The short story Valeurs can be found in the anthology Dimension Super-Héros 2.
Despite most of their work being dark fantasy, nightmarish science-fiction or full-blown horror, Cauchemar describes themselves as "a sweet little fairy here to make your dream come true".
Ad blocker interference detected!
Wikia is a free-to-use site that makes money from advertising. We have a modified experience for viewers using ad blockers

Wikia is not accessible if you've made further modifications. Remove the custom ad blocker rule(s) and the page will load as expected.