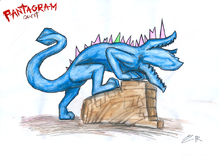 Floreal is one of Vitriol's Familiars. Along with Floreal 2, it was created from one of the Floreal statues decorating the entrance to Medonis Museum.
Floreal has a feline-like body. It looks roughly 8 meters long, 4 meters tall. The head is shaped like a flower, and seems to be nothing more than a big mouth. Floreal has a ridge of stained glass shards starting on the rump and ending on the upper petal.
Floreal is the first boss (and overall the first enemy) the player faces. It is fought in the game Boss 1: Floreal. It is finally cut in two by one of Klow's portals and the upper part is sent to the Igniplasma Room.
Floreal is the eighth month in the French Republican Calendar.
Floreal is an etymological variation of floral, probably referring to the flower-shaped head.
A lot of Floreal concept arts are more organic than the final design.
Ad blocker interference detected!
Wikia is a free-to-use site that makes money from advertising. We have a modified experience for viewers using ad blockers

Wikia is not accessible if you've made further modifications. Remove the custom ad blocker rule(s) and the page will load as expected.