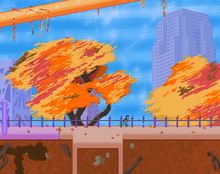 Level 1: Nelphis is the first Pantagrame video game. The player controls Jovy, heading towards the museum. Quickly enough he reaches one of Klow's portals.
Bonus items
Edit
Tanktop
Lunch ticket
Shiny rock
Cindralic statuette
Ferdacles
Jovy's corallian power is blocked for the first level.
There is a devastated apartment at the upper left side of the level. It is unknown if it is part of Vitriol's rampage.
There is a missing pet poster "WHERE IS MY BLOODY TIGER?" on one of the display panels.
Ad blocker interference detected!
Wikia is a free-to-use site that makes money from advertising. We have a modified experience for viewers using ad blockers

Wikia is not accessible if you've made further modifications. Remove the custom ad blocker rule(s) and the page will load as expected.