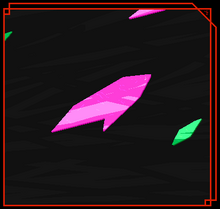 Stained glass shards which appear on Familiars. They appear to be smooth, but when Jovy touches it, he perceives veins and soft protuberances.
The shards are always pink or green.
The Familiars can also produce a lot more shards and throw them towards their enemies.
Ad blocker interference detected!
Wikia is a free-to-use site that makes money from advertising. We have a modified experience for viewers using ad blockers

Wikia is not accessible if you've made further modifications. Remove the custom ad blocker rule(s) and the page will load as expected.